ON DEMAND WEBINAR




Optimizing L&D Programs for Hybrid & Remote Employees
Many organizations continue to grapple with determining where their employees will work - remote, hybrid, or in-person. This uncertainty and the dispersed nature of the teams make it particularly difficult for L & D professionals to deliver high-quality, effective, and engaging employee development programs.
The key is making programs inclusive so that employees can engage no matter where they are.
Learning strategist and Senior Instructional Designer, Pinar O'Flaherty, joins PILOT's Head of Product, Rachel Crice, to discuss how to leverage best practices for inclusive and engaging development programs. They'll share fundamental concepts that empower employees, improve retention, and help everyone feel powerful at work.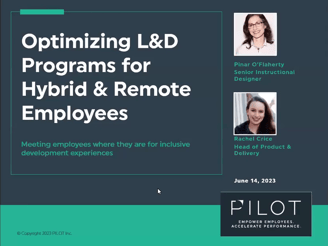 Register to View Webinar Recording
In the webinar, you will learn fundamental concepts that:
Empower employees

Improve retention
Help everyone feel powerful at work
"We were looking for something that's very simple, easy to administer, and user friendly. I found all three of those in PILOT."
Mark Rodriguez, Vice President of HR, Southwest Water Company